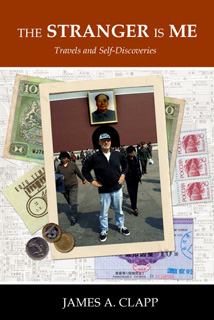 ©2003
477 pages
PUBLISHED, 2007, and available from Amazon.com. Based on nearly 30 years of traveling to some sixty countries, escorting tours, and living in working London, Paris and Hong Kong, the author relates a variety of personal experiences, adventures and misadventures, lessons about travel and fellow travelers, observations about foreign peoples and places, and personal self-discoveries enhanced by being a stranger in strange lands. The contents for this book are arranged around travels with family, escorting American travelers abroad, and traveling and living alone in foreign countries. A sample chapter of an adventure in a Malaysian rain forest is illustrative of one of the forms of travel chronicled in this memoir.
CONTENTS

       
Preface
The preface explains the inspiration for this book.   It is a brief narrative about the author's late wife, an artist who encouraged him to become an escort for educational tours without any prior travel experience.
Eolou Street and The Temple of Memory
This chapter expands upon the theme of this book with a brief "meditation" on the experience of travel and its relationship to memory.   The author "seats" the reader at one of his favorite places, the street-side tables of a taverna in the Plaka below the Acropolis of Athens, and discusses the connections of a personal sense of time and place with the sense of history.
PART I:  TRAVELS WITH PATTY
In the late 1970s and early 1980s the author often traveled with his wife, sometimes with their two daughters along, and sometimes in conjunctions with educational tours that he was leading.   The three chapters are based on a six-month sabbatical in England, followed by trips with their daughters to the author's and his wife's respective "homelands" of Italy and Ireland.  
Once a 'Yank,' Always a 'Yank'  
The author's first experience living abroad was in a country that shared a language and traditions that were common to America. George Bernard Shaw once remarked that England and America are two countries separated by a common language.   But living in England teaches that there is a lot more separation than language alone.   Renting a flat from a mysterious landlord who looks like a Saudi prince proved only slightly less alien than encounters with English pub patrons, philandering businessmen, and a social crusading knight in armor, all of whom seem to affirm what it is to be a "yank" and confirm why England and America parted company .
Motoring in the Motherland  
Discovering one's roots can sometimes be a painful process.   The author, an Italian-American, brings his family to his father's home region of Italy only to find himself in constant road battles with drivers who share his ethnic ancestry but not his driving habits.   On the beautiful Amalfi Peninsula he escapes Neapolitan thieves in a harrowing road race, but learns also to control his distemper in dealing with the folks from the "old country."
¨ D'ya Know the O'Malleys?  
While it is not required of an Italian-American to marry an Irish-American girl to enjoy a visit to the Emerald Isle, the author discovers that it is highly recommended.   This chapter relates his experiences driving his family through Ireland during a time of economic strife and particularly poor weather. A bizarre arrival late at night at the YWCA near Dublin and the enriched experiences of being the guest of farmers who only get to travel themselves by taking in foreign guests gives him a new appreciation of his wife's cultural heritage.
PART II: MYSELF AMONG OTHERS
Following the death of his wife the author sometimes traveled and lived abroad alone, on other occasions with traveling with colleagues or women friends.   These chapters cover periods in which the author lived and taught at universities in Paris and Hong Kong, conducted script research for a television documentary in Egypt and took ships to several other countries.
Like ships, cities are most often referred to in the female gender.   Paris is a prime example.   To the poet, novelist and songwriter, Paris is, variously, the siren, the whore, the 'grisette,' or a demanding and usually faithless lover.   But for the author Paris is a composite of the women he associates with this beautiful city.   His arrival to begin serving as a visiting professor at the University of Paris in 1989 brings forth some difficult memories of the loss of his wife who loved the city.   But his stay introduces him to other ladies of Paris, among them a landlady who's own experience with the City of Light extends back to the First World War.
Some people travel to places where they can "commune with nature," but the city-bred author has discovered that "adventure travel" is not quite his style.   Although he developed an aversion to monkeys he relates a somewhat perilous and humorous excursion into the Malaysian rain forest in quest of simians that reputedly will deliver his favorite confection: coconut.
Mash Transit  
One of the lessons of traveling in Asia is that size makes a difference.   The author, living in Hong Kong in 1997 to study the effects of its imminent "handover" to the People's Republic of China, and a confirmed rider of public transit, learns that "painful" lesson riding one of the city's colorful and ancient trams where his notions of how much "personal space" he is comfortable with are revised.
The Train to ' Île Das Boot'
A visiting professor at the University of Paris in 1989, the author is invited to his department head's 18 th Century manor house on the Île de Brehat in the English Channel populated mostly by the descendants of a few fishing families.   The house, he learns, has received little repair and maintenance since the 18 th Century.   Part of its mysterious history is its occupation by the German navy, which signaled its U-Boats from the manor's tower during World War II.   But the author found it filled with heady stew of dust, smoke, and French intellectuals and his accommodation in the manor's bat-filled tower proved inconvenient to its primitive sanitary facilities.
The Log of the Geriatricus
On a voyage around Cape Horn the author tries to reconcile his youthful fantasies to someday be a genuine mariner with the reality of being a passenger on a cruise ship.   The "log," composed of his nautical musings and reveries as a would-be   "sea dog" while aboard several different cruises, takes the reader on a cruise through cruise ship absurdities and excesses.   The author finds that the cruise ship is a curious extension of the shopping mall, casino and other amusements and comforts of American life on land, leading increasingly to the absurdity that the cruise ship's destinations have become not only meaningless, but also unnecessary.   The author's love of the sea, however, prevails.
The Winds at Fifty (4700)
Turning age fifty can be a daunting event wherever one is.   But in the ageless Egyptian desert the hot winds of the khamseen can give the event strange meanings and portents.   Traveling through the ancient land while working on a script about Bedouin goat herders for a hybrid species of goat called "supergoats," the author ends up in a deserted seaside resort in El Alamein battling insects, goats, the hot khamseen winds and his existential passage into his sixth decade.
PART III:   FELLOW TRAVELERS; LESSONS OF A TOURGUIDE
Free travel as a tour escort/professor provided the author his first opportunity to travel to Europe.   After "faking it" as an experienced tour guide the author continued to collect a fund of travel experiences and insights into the manners and mores of his fellow Americans when they were abroad.   The "package tour" creates fascinating social microcosm in which marriages disintegrate, romances blossom, and people make fools of themselves and take chances they would never even imagine back home.   The author discovers that for all his travel he is sometimes no exception to these characteristics .
The Madonna Subterfuge
Being an Italian-American can be quite different than being an Italian-Italian.   Having Italian "roots" is one thing; but what cultural soil they are nurtured by can make for some amusing contrasts .   In this chapter the author is guiding a group of students through Italy by train.   He once again finds, as did his parents before him, that common ethnic heritage is no guarantee of common customs and mores.   The supposed simple process of changing a train ticket becomes a humiliating experience, only to result in a train ride the involves battle with pot-smoking hikers, a squatting Italian family, a recalcitrant conductor, a fierce prostitute and equally intimidating nonna who inspires a bittersweet reverie.
Wherever We Go, There We Are  
Two decades as a tour escort for Americans traveling abroad gives one a chance to observe the personalities one's countrymen in the microcosm of the tour group experience.   After a time certain archetypes begin to emerge.   The composite archetypes described in this chapter are based on persons living and dead who have traveled with the author over a number of years; but their names have been changed to protect their reputations, and the author's life.
The Art of the Hustle, The Sting of the Scam
Americans tend to regard themselves as being more sophisticated than most foreigners, particularly those in Third World countries.   But they are often taken in by "hustles" and "scams," some of which can turn out to be some of the more amusing learning experiences of foreign travel . In this chapter the author recollects hustles and scams in which he has been the "mark" s while traveling alone or escorting fellow Americans.   Touts, taxi drivers, prostitutes, dancing girls, larcenous hotel staffs, and fraudulent charity operators are among the curious encounters in this chapter.
In Case of Accident Please . . .   
A collection of vignettes from the author's years as a tour escort that illustrate the travel axiom that in foreign travel, perhaps more so than in familiar environs: What can go wrong . . . if you're unlucky; what will go wrong . . . if you're stupid.   As a tour escort the author dreaded either circumstance, but was often angered by the latter.   In this chapter foolish women pick up complete strangers, dally with Turkish border guards, and ignore healthful; precautions, foolish men swim in rivers of bacilli, and get themselves confused with terrorists, and a not-always-judicious tour escort gets himself into some precarious circumstances.
Foreign Affairs  
Romance in faraway places can make foreign travel especially memorable.   But what happens when it's time to go home?   When a young aspiring writer on one of the author's European trips succumbs to a shipboard romance, the author remembers a 'farewell scene' of his own.
About 'Face' in Tiananmen Square  
Occidental tourists must make certain cultural adjustment in order to be good 'honored guests' in the Orient.   However, sometimes the best intentions can be undone by that less easily adjustable feature of Western character: our sense of humor.   The author, leading a group of Americans on a tour through China finds that what Americans find amusing can come into conflict with the Asian concept of "face," closely associated with honor and respect.   He and his group experience that conflict at first hand in a visit to the embalmed body of Mao Zedong, and see another side of it cruising down the Yangtze with Chinese, Taiwanese and Japanese tourists.
The author and his colleague, television director, Jack Ofield, spend a long Ramadan night that begins with an after midnight script meeting, moves to sitting in the moonlight on the pyramid of Cheops in Giza, and finishes in the early morning at a café that hasn't closed for three-hundred years and is the hangout of the recipient of a Nobel Prize for Literature.
PART IV:    COMING FULL CIRCLE
Gazing into the Middle Distance
In this concluding chapter and encounter with a retired Chinese English teacher in a park in Wuhan evokes memories of the author's first travels, trips to the park in Rochester, New York with his grandfather, Sebastian.   Sebastian's one and only foreign travel was a migration in steerage from Italy to New York City before the turn of the century.   Like his grandson, travels are journeys of self-discovery from which life is never quite the same afterward.