The website of James A. Clapp, Ph.D.
Emeritus Professor of City Planning at San Diego State University.
It contains a variety of information of the qualifications and experience of its author in City Planning, Urban Affairs, Print and Broadcast Media, and International Travel. It is also the parent site of Dragon City Journal, which features current writing on urbanism, media, travel and contemporary culture.
---
AVAILABLE NOW !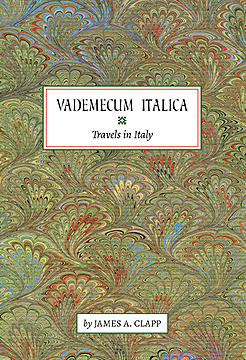 "Vademecum Italica"
Travels in Italy
MARCH 22, 2016
Purchase Options: Paperback Amazon.com , eBook (Kindle) Amazon.com and other Internet book vendors released on March 22, 2016. For signed copies requests using the contact form
---
WHAT'S NEW ?