The website of James A. Clapp, Ph.D.
Emeritus Professor of City Planning at San Diego State University.
It contains a variety of information of the qualifications and experience of its author in City Planning, Urban Affairs, Print and Broadcast Media, and International Travel. It is also the parent site of Dragon City Journal, which features current writing on urbanism, media, travel and contemporary culture.
---
AVAILABLE NOW !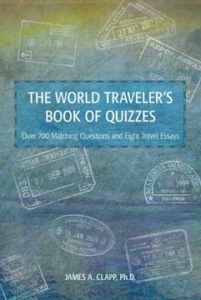 "The World Traveler's Book Of Quizzes"
FEBRUARY 2017
Test your travel memories and observations with this collection of informative and curious quizzes. Over 300 matching questions are supplemented by essays about travel that have been derived from nearly four decades of travel guiding and visiting more than seventy countries.
Available February 2017 from Amazon.com , and other Internet vendors or urbmedia-ltd.com.  released on March 22, 2016. For signed copies requests using the contact form.
---
WHAT'S NEW ?